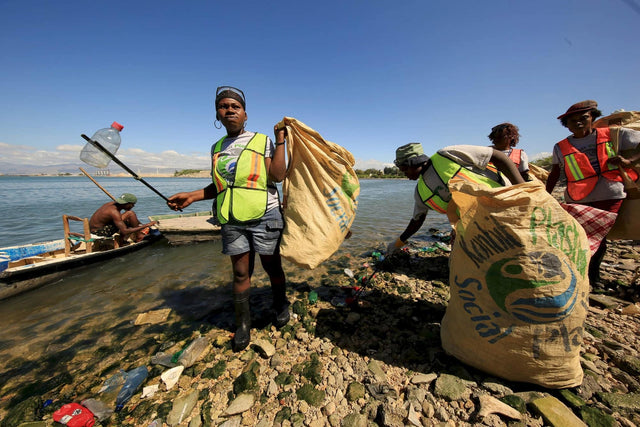 Our Past Partnership With Plastic Bank
At Highland, we are genuinely passionate about cultivating a routine that aligns with our values and goes above and beyond for the health of our planet. We refuse to settle for anything less just to make a quick buck. Highland's vision is to enable improved lifestyles with peace of mind about your health and environmental impact.
After researching extensively for a parallel-thinking organization who could help us bring this vision to life, we were connected with Plastic Bank. This wonderful organization provides a full circle approach to mitigating universal problems like global waste and poverty.
We are thrilled to announce our official support of such a revolutionary group AND involve all of you in this journey together. 
"Tell me more."
Plastic Bank® empowers the regenerative society. We are helping the world stop ocean plastic while improving the lives of collector communities.
Plastic Bank builds ethical recycling ecosystems in coastal communities and reprocesses the materials for reintroduction into the global manufacturing supply chain.
Collectors receive a premium for the materials they collect which helps them provide basic family necessities such as groceries, cooking fuel, school tuition, and health insurance.
Plastic Bank's certified blockchain platform secures the entire transaction and provides real-time data visualization – allowing for transparency, traceability, and rapid scalability.
The collected material is reborn as Social Plastic® which can be easily reintegrated into products and packaging as part of a closed-loop supply chain.
Plastic Bank currently operates in Haiti, Brazil, Indonesia, the Philippines, and Egypt.


Your purchase:
With every Highland purchase, YOU will be personally responsible for preventing 100 plastic bottles (500ml) from entering our fragile oceans, on top of providing the support local communities need around the globe.
It is a primary goal of ours to ride this wave together. This is a group effort and we are inspired to build this community into something big. This is only the beginning. Let's work.